'In moments like these we realise we need to put politics aside and work together as Americans'
Joe Biden has celebrated another strong performance in a handful of battleground states, further tightening his grip on the Democratic nomination and forcing Bernie Sanders to confront pressing questions as to the future of his bid for the presidency.
On a day of voting almost unavoidably impacted by the coronavirus crisis – one state decided at the 11th hour to postpone its primary – the former vice president soared to landslide wins in Florida and Illinois. Projections suggested he would do the same in Arizona.
"Tonight it looks like we've had a very good night…and we move closer to securing the Democratic Party's nomination for president," he said in an address live-streamed from his home in Wilmington, Delaware. "And we're doing it by building a broad coalition that we need to win in November."
In a direct appeal to supporters of his rival, he said he and Mr Sanders disagreed sometimes on tactics but were in accord over the need to tackle inequality, access to healthcare and climate change. He also said it was essential the country worked as one to combat Covid-19, which had already led the governor of Ohio to postpone its primary.
"Senator Sanders and his supporters have brought a remarkable passion and tenacity to all of these issues. Together, they have shifted the fundamental conversation in this country," he said.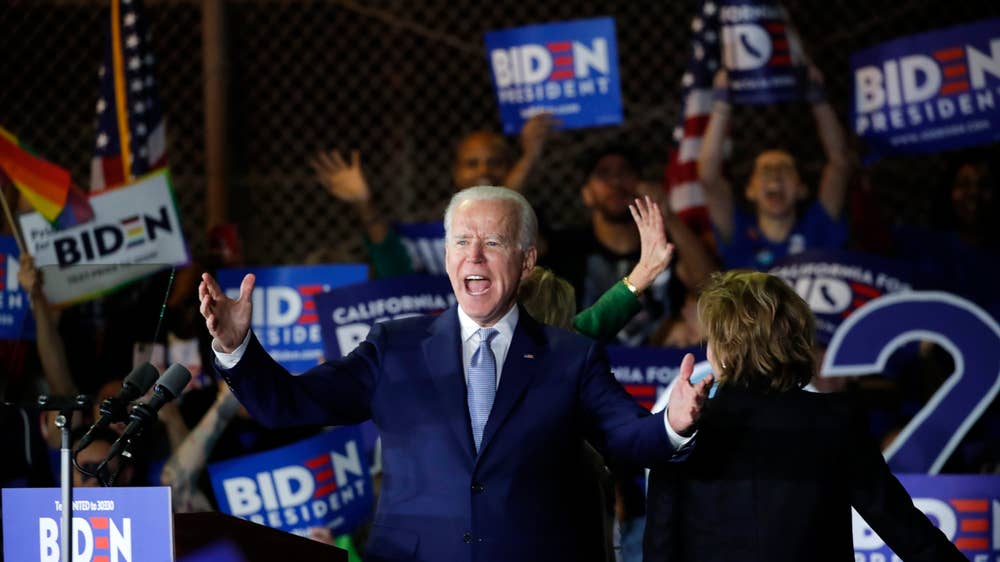 "So let me say, especially to the young voters who have been inspired by Senator Sanders: I hear you. I know what's at stake. I know what we have to do."
Mr Biden said his goal was to unify the Democratic Party, and then the nation. "You know, it's in moments like these we realise we need to put politics aside and work together as Americans. The coronavirus doesn't care if you're a Democrat or Republican."
Mr Biden had gone into the latest primaries as the clear frontrunner, having turned around his campaign first with a huge win in South Carolina, and then a string of impressive performances in places such as Texas and Minnesota. His momentum was driven in a large part by the decision by several of the candidates, including Pete Pete Buttigieg and Amy Klobuchar, to end their campaigns and endorse him.
After securing wins in the first three states to vote, Mr Sanders, 78, found himself struggling to appeal to as broad a swathe of the electorate as the former vice president, and was hampered by the fact that traditionally, younger people are the least likely to actually get out and vote.
There had been anticipation he might end his campaign last week after disappointing performances in heartland states such as Michigan, but he stayed in, apparently determined to take part in last Sunday's one-on-one debate with Mr Biden. It seems the event did little to boost his numbers.
In Florida, a state where Mr Trump narrowly defeated Hillary Clinton by 49 to 48 percentage points, Mr Biden beat Mr Sanders 62-23 and was was set to add an additional 130 delegates to his total. Mr Sanders received 48.
In Illinois, he won 59-36, and was due to 93 delegates, compared to 46 for Mr Sanders.
The results put Mr Biden's total delegate count at 1,121, compared to 839 for the Vermont senator. A number of delegates have already been won by candidates who have since dropped out of the race, among them Elizabeth Warren and Michael Bloomberg.
There was no immediate word from Mr Sanders on Tuesday night.
However one adviser to his campaign raised the question of whether he would continue to battle on, even though his chances of securing the nomination look very slim, for the sake of his "movement".
"If he ends his candidacy, will someone else step into the void and lead the movement," the unidentified person told CNN. "Is the best way to stay relevant by staying around for the rest of the race?"