It is quite surreal for us to see this whole situation unfolding on the planet below,' NASA's Jessica Meir says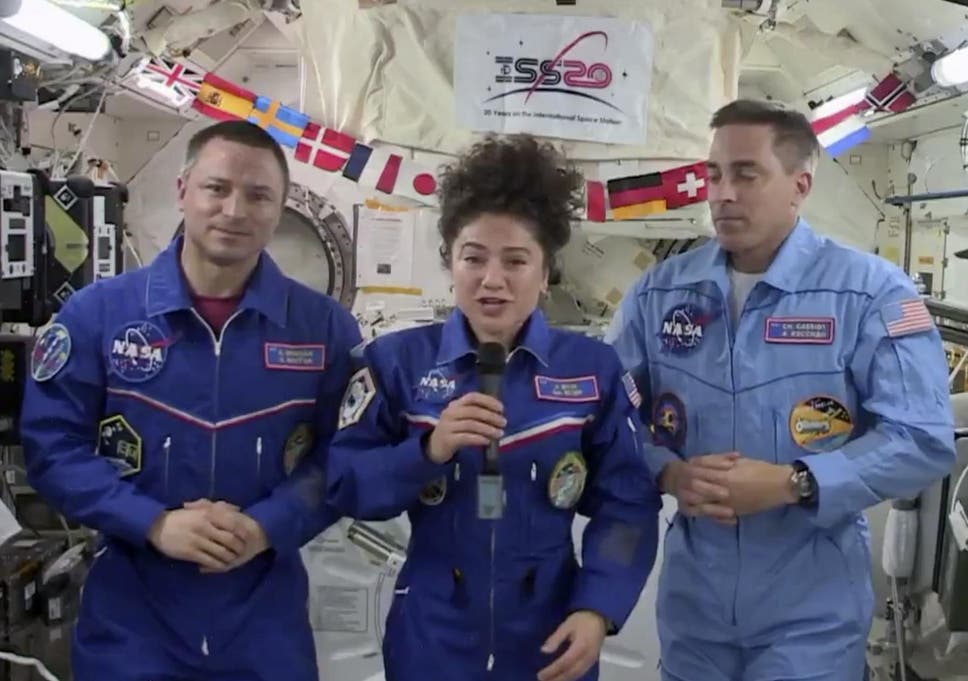 Astronauts currently residing aboard the International Space Station have braced for returning to Earth amid the coronavirus pandemic.
When speaking to CBS News, astronaut Jessica Meir confessed she expects to feel more isolated upon returning to Earth during the pandemic instead of how she's felt on the space centre.
"It is quite surreal for us to see this whole situation unfolding on the planet below," Ms Meir said on Friday. "The Earth still looks just as stunning as always from up here, so it's difficult to believe all the changes that have taken place."
"It certainly will be very difficult for me to not be able to give some hugs to my family and friends," she added. "That's something after being up here for seven months, and being the type of person that I am, that's going to be difficult for me. … I think that I will actually feel more isolated on the Earth than I did up here, just because that's part of our expected routine up here."
Astronaut Andrew Morgan, who also is aboard the space centre, added members of his profession typically expected Earth to change in some ways upon returning, but not quite at a pandemic level.
"We can watch news up here, and we've been talking to friends and families to try to paint a picture," Mr Morgan said. "But from up here, it's hard to understand what has transpired and how life will be different when we return."
Mr Morgan came aboard the International Space Station in July, and Ms Meir, who participated in three all-female space walks, in September.
Both of the astronauts will disembark in a Soyuz capsule with Russian Oleg Skripochka next Friday, which will land in Kazakhstan. Their spots in the space station were replaced by three other astronauts, including NASA's Chris Cassidy, on Thursday.
Those three astronauts joining the International Space Station have been in strict quarantine since the beginning of March to prevent bringing any virus into space.
"I did not come in contact with anyone other than those immediate people involved with the launch preparation," Mr Cassidy said. "And those people were also in the same quarantine as I was. And we were really strict about it."
The landing of the Soyuz capsule next week will come exactly 50 years after Apollo 13 landed in the Pacific Ocean.
Once again, now there's a crisis and the crisis is on Earth," Mr Morgan said.
He joined NASA in 2013 after working as an emergency physician with the US Army. Watching healthcare workers battle the pandemic from afar has been difficult for Mr Morgan.
"As an emergency physician, I know what it's like to be in a hospital or on the front lines of a field hospital," he said. "I'm very proud to be part of that profession, but at the same time, I feel guilt that I am as separated from it as I could be right now."